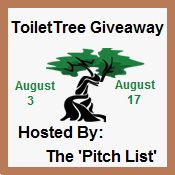 Recently I had the opportunity to review a product from Toilet Tree. My husband was excited and I am sure that yours will be too. The product is
Deluxe LED Fog less Shower Mirror
. How many times has your husband missed a few spots when shaving in the morning? Here is my thought of this mirror and why I think it's pretty cool. It has a platinum finish with a grey stand that tilts. It's great when you need to adjust for a better view. The mirror also has a built LED light that surrounds the frame to illuminate the situation. I love the mirror for it's main function that no matter how hot your shower gets the steam doesn't allow the mirror to fog.
This mirror can also be mounted in any shower. It comes with the strips, adhesive and batteries for the lights. Not to mention it comes with a small squeegee. You may also place this mirror on any counter or vanity. If the ladies need to put their makeup on simply take down the mirror and turn the light on. The surface is a good size about the same dimensions of a I-Pad and convenient to store away when not needed. When it is all set up, it kinda reminds me of a small panel television. I highly recommend this product for it's functions and versatility for our everyday lives. Who doesn't need a good mirror in the morning! This product retails for $59.95 but you can get it on sale for $49.95. You may purchase it on Toilet Tree's website and they offer free shipping or on
Amazon
.
Disclaimer:
I have received a sample of this product above to review and to give my honest opinion on it.
You now have a chance to win a Deluxe LED Fog Less Shower Mirror for your self. Please be sure to visit other blogs below for more chances to win on other products. You may enter to win this through the rafflecopter below. The giveaway starts on August 3rd - August 17th.
It is open for USA and Canada Residents only.
**
Only one 'Pitch List' winner per household and/or IP address **
a Rafflecopter giveaway