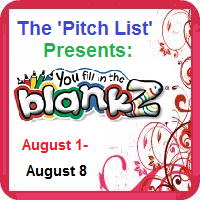 I recently had the privilege in doing a review on Blankz toy.
Let me tell you more about
Blankz
It is a creative toy that you personally design the character yourself. This is a great way to entertain your little ones without having to purchase additional toys. Designing your Blankz is very easy.
First you color your blankz which you can pick from the characters bare, ele-faint, un-sealed, bare hare, no bully, white-hound and bloink. My review was done with ele-faint as show below. You use the provided five colored markers (red, yellow, green, orange, blue and black) to color and decorate your character of choice. Simple and Easy! Your next step would be washing it. Place your blankz in the washing machine, I would suggest to wash it separately. But you may feel comfortable to include it in your cold regular wash as well. This toy you can also place it in your dryer on the low setting.
Here is our ele-faint. We had tons of fun decorating our Blankz.
I believe that Blankz is a fun way to use your imagination with using color and toys. I would recommend this product to other moms.
You now have a chance to win a Blankz of your own. Starting August 1st, we will be offering a giveaway where one winner will win one Blankz each day for seven days.
Good Luck!
Disclaimer:
I received one or more of the products mentioned above from
Blankz
at no charge for review purposes only. All opinions expressed are 100% my own and were not influenced by any other source.
a Rafflecopter giveaway